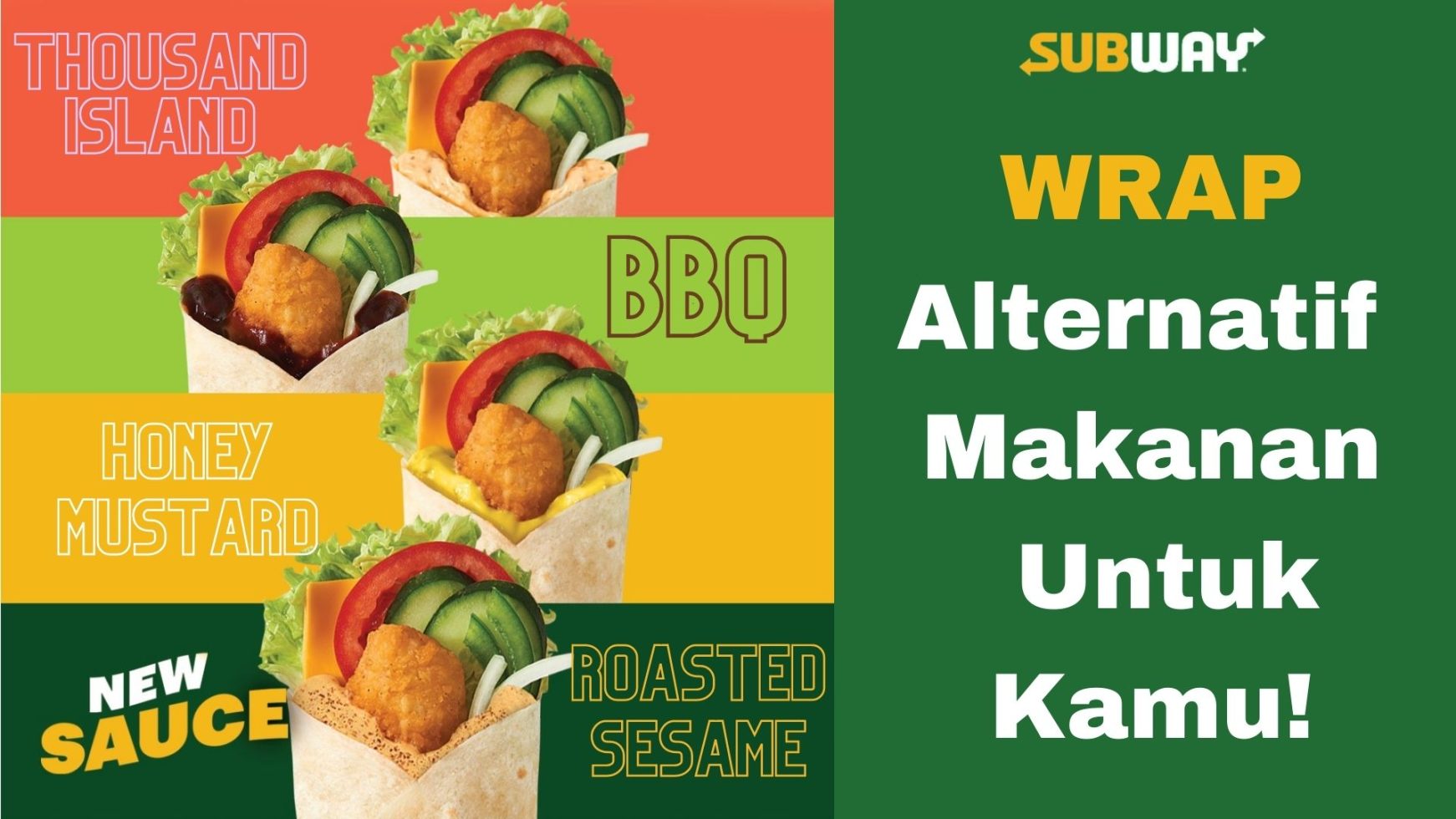 WRAP, Alternatif Makanan Untuk Kamu! – Dr. dr. Luciana Sutanto, MS, SpGK.
Let's get to know what is wrap.
Wrap adalah hidangan yang dibuat dari roti pipih lembut yang membungkus lauk dan sayur sebagai isinya.  Roti pipih pembungkus wrap bisa berupa roti tortilla, lavash, atau pita.  Isian wrap bisa potongan/irisan daging sapi, daging ayam, ikan, telur, keju atau berbagai sayuran.  Sebagai pelengkap citarasa biasanya ditambahkan bawang bombai dan mostar.
Yuk, kita lihat kandungan gizinya…  Roti pipih pembungkus wrap adalah bahan makanan sumber karbohidrat.  Biasanya untuk membuat satu wrap diperlukan selembar roti yang mengandung sekitar 200 kalori.  Isian daging sapi, daging ayam, ikan, telur, keju dalam wrap merupakan bahan makanan sumber protein yang sering kita konsumsi sebagai lauk-pauk.  Sebungkus wrap bisa berisi 25-50 gram lauk pauk yang bernilai gizi 100-200 kalori.  Isian sayur di dalam wrap merupakan sumber vitamin, mineral dan serat.  Seperti kita ketahui, serat dianjurkan dikonsumsi 25-30 gram/hari atau 3-4 porsi/hari.
Wrap for meal, why not ?
Wrap bisa menjadi salah satu pilihan menu makan, mengapa? karena komposisinya terdiri dari makanan pokok, lauk pauk dan sayur.  Nah, kita tinggal menambahkan 1 porsi buah saja untuk memenuhi anjuran gizi seimbang.
Isi wrap yang bervariasi akan menghindarkan dari rasa bosan karena pilihan makanan yang sama.  Lebih dari sekedar masalah bosan, variasi makanan yang kita konsumsi ternyata menguntungkan kita karena akan memberikan variasi zat gizi yang kita dapatkan, sehingga kita mendapatkan zat gizi yang lebih lengkap.
Tips mengonsumsi wrap untuk menu makan yaitu perhatikan porsi dan isinya.  Saat memesan wrap mintalah isi sayur yang cukup banyak dan batasi saus terutama yang mengandung minyak.  Sebuah wrap, kira-kira mengandung 350-500 kalori, jumlah ini cukup untuk memenuhi kebutuhan gizi sekali makan.
_________________________________
Let's get to know what is wrap.
Wrap is a culinary dish made from soft flatbread that is rolled around ingredients. The flatbread can be tortillas, lavash, or pita. The ingredients of the wrap can be slices of beef, chicken, fish, eggs, cheese or various vegetables. To enrich the taste, it uses extra ingredients such as onions and mustard.
Let's see the nutritional content of wrap… Flatbread wrap is a food source of carbohydrates. To make one wrap, it usually needs a piece of bread, which contains about 200 calories. Stuffing of beef, chicken, fish, eggs, and cheese in packets are food sources of protein that we often consume as side dishes. A pack of wrap with 25-50 grams of side dishes has a nutritional value of 100-200 calories. Vegetable stuffing in the pack is a source of vitamins, minerals and fiber. As we know, fiber is recommended to be consumed 25-30 grams/day or 3-4 servings/day.
Wrap for meal, why not?
Wrap can be viable as either our breakfast, lunch, or dinner choices. Due to the composition of wraps consisting of staple foods, side dishes, and vegetables. Well… all we must do is add 1 serving of fruit to meet the recommended balanced nutrition.
The various contents of wraps will prevent you from feeling bored of the same food options. More than just a matter of boredom, the variety of food we consume benefits us as it will provide a variety of nutrients, so that we get a more complete nutrition.
Tip for consuming wrap for meals is to pay attention to the portion and contents. When ordering a wrap, ask for ample vegetable filling and limited sauces, especially those with oil. A wrap approximately contains 350-500 calories, this amount is enough to fulfill your average meal portion.
_________________________________